How to use this directory of resources
Click on Browse/Filter to narrow your search by checking specific communities and services included in the EchoX community listings.
EchoX includes a steadily growing searchable database of organizations, groups, writers, artists and others organized by ethnicity, cultural focus, type of heritage work and/or type of community action. Check back often to see newly added listings!
Want to add yourself or a group to the EchoX community listing?
Community resource listings will grow organically as you and others are added! If you're involved with community work related to EchoX themes – ethnic cultural heritage and social action – click 'Sign Up' in the upper right corner and add your own page to the Directory for free!
After clicking 'Sign Up' you will be taken to a form to fill out to create your account. Once you open your account, you'll have ongoing access to an EchoX backend template where you may provide any information you want others to see. You can also add your own events to the calendar with details and artwork.
Send the EchoX link to your own supporters. Site visitors will learn more about you, your work and your events!
Directory

Thione Diop
---
Contact
---
About
Thione Diop, percussionist from Senegal, West Africa, is widely recognized for his powerfully expressive Djembe performances. He is descended from an ancestral line of Griot drummers in Senegal, West Africa, and is a master of the djembe, sabar, tama, and djun djun.
In 1998, Thione moved to Seattle to teach and perform;   a year later he formed Yeke Yeke, a percussion ensemble that has performed the traditional rhythms of West Africa to delighted audiences for the last ten years.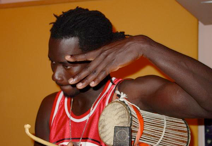 Thione is also responsible for some incredible regional events, such as the annual Spirit of West Africa Festival and Kasumai Africa, offering the Pacific Northwest audiences a chance to enjoy immersive experiences in African music, dance, and culture.
Thione has shared the stage with such noteworthy musicians as Poncho Sanchez, Alpha Blondy, Prince Diabate and Max Romeo. Thione Diop and his group Yeke Yeke are well known from their many regional appearances in the U.S. and Canadian Northwest. In Senegal, Thione has collaborated with renowned griot artists Babou Laye Cissokho; master Kora player, Thierno Kouyate; Orchestra Baobab saxophonist, Thierno Ba; Xalam master, Samba Ndoc Tama player for Cheikh Lo and singer Abdoulaye N'Diaye on a number of tracks.
---